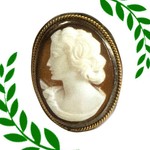 vintage*store

&nbsp(

16813

)&nbsp

Positive Feedback (last 12 months): 100%

Member since: Jan 11, 1999 in United States
19,101 Feedback received (viewing 1-25)
Revised Feedback: 17
Search Feedback received as seller with an item title or ID:
FEEDBACK

FEEDBACK

FROM BUYER/PRICE

WHEN

VTG FACCONNABLE Italian Blazer Jacket Brown Plaid Curdoroy Collar 38L 40 M (#

164726809673

)

Fast shipped, well packaged!

Item shipped and received very quickly! Arrived in great condition! Thanks!

Lovely tile - well wrapped A+

Vintage 1970s CDG COMME DES GARCONS Beaded Fish Leather Belt 36 (#

313470115230

)

NICE ITEM! WELL-PACKED, REALLY AS DESCRIBED. BUY HERE!

Vintage 1990s EDDIE BAUER Safari Field Shirt Gray Green Short Sleeve MED (#

313309426706

)

US $41.94

(

Best offer was accepted

)

VTG MATIN CLAIR Paris Glass Perfume Bottle Dauber Applicator Flower Metal Top 3" (#

313222853153

)

US $35.94

(

Best offer was accepted

)

I love her. She sits on my couch that has Victorian pillows and decor

VTG Antique China Porcelain Head Hands Feet Cloth Body Doll Black Hair 14.25" (#

313197303212

)

US $48.95

(

Best offer was accepted

)

Fast shipping! Great dress! Thank you!!

Vintage 1970s YOUNG EDWARDIAN Floral Black Cotton Gauze Satin Sun Dress XS SM (#

313442408819

)

Lovely vintage earrings in a beautiful color! Very nice condition. Packed carefully and shipped quickly. 5 Star ebayer!

Vintage 1960s Orange Rhinestone Weiss Designer Signed Clip Earrings (#

164572086540

)

US $27.00

(

Best offer was accepted

)

Excellent Purchase! As Described.Thank You!

VTG Leather Patchwork Drawstring Bag Satchel Suede Boho Hippy Bag (#

313029161738

)

US $40.00

(

Best offer was accepted

)

Perfect! Ship fast! Very nice seller!

VTG 1960s USN Navy Blue Wool Officers Epaulets Double Breasted Winter Coat M LG (#

164711076423

)

Quick ship; book satisfactory.

VTG 50s TIME Magazine October 26 1959 The Corpse In The Living Room Private Eyes (#

313222853161

)

It came beautifully packed just as it was described on the site and very beautiful thank you

VTG Kimono Handmade Handsewn Tan Printed Embroidered Floral Long Lined Red M/L (#

164239603395

)

Its fantastic very lovely. Your amazing. Wonderful packaging. So wonderful and beautiful

Vintage 1960s White Girdle Garter Belt Van Raalte Powerlastic High Waist Sm (#

164090714806

)

US $45.95

(

Best offer was accepted

)

VTG Victorian 2pc Bodice Full Skirt Cotton Wool Silk Intact Beadwork Wearable XS (#

164794319138

)

I am so pleased with my purchase! Item was exactly as shown, and was delivered in good time.

??Gorgeous skirt, perfect fit! Thank you!!!??

VTG College Town Cotton Pleated Full Skirt Green Floral Micro Print S (#

313111184562

)

US $34.50

(

Best offer was accepted

)

Shipped quickly. Nice pants.

VTG 50s 60s ALEX COLMAN Light Blue High Waisted Cigarette Jax Pants S 25.5" (#

313286689509

)

US $41.94

(

Best offer was accepted

)

Beautiful jacket, thank you

VTG 80s HARRIS TWEED Scottish Wool Grey Gray Blazer Suit Jacket 38S S (#

164711015069

)

VTG Big Bang Conestoga Toy Cannon Spoke Wheels Cast Iron 9" Black Red (#

313196133376

)

US $54.95

(

Best offer was accepted

)

Great sweater, it looks like new and fits well.

Vintage 1950s GARLAND Sheltie Mist Gray Knit Cardigan Sweater Jumper SM MED (#

164709034208

)

Quick and smooth transaction.

VTG 1990s Indian Green Cotton Floral Print Angel Sleeve Caftan Maxi Dress SM MED (#

164781548621

)

Perfect, very unusual item shipped fast with care, thank you!